(ESAT News)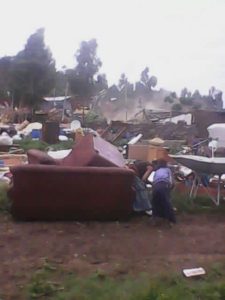 Reports reaching from Addis Ababa say thousands of households in the capital receive eviction notices.
At least 5,600 households in Furi subdivision of the capital received the notice on Monday to pack and leave by the coming Monday while a total of 1,516 residents in Kirkos subdivision were given three days to leave.
A mother of three who spoke to ESAT on the phone said she and her children have nowhere to go. Asked if authorities have provided alternative housing, she said there was none.
"Only over our dead bodies can the powers that be remove us from our homes," another resident said.
Residents in both subdivisions said they were not provided with alternative housing nor compensations.
Thousands of residents in the capital were evicted to give way to what authorities say development projects meant to change the image of the capital.
A confrontation during a demolition in the Bole subdivision last year resulted in the death of five police officers and several residents sustained  injuries.